Advertise to Christian Singles
ChristianCafe.com is a leading online dating service for single Christians. The service is Christian owned and operated. Please read our Media page for more information on the service.
Christian Advertising Opportunities
ChristianCafe.com is generally an ad-free site, however we do have two ad spots available:
→ 468x60 Banner - IM Window
The 468x60 banner is displayed at the bottom of the instant messaging window:
Does not auto refresh, so banner is shown throughout the entire IM conversation;
Displayed above the fold;
Displayed to all members who use IM;
More information: Pricing and purchase information.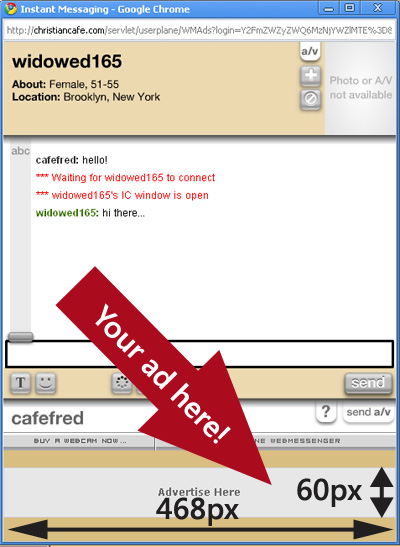 → 300x250 Banner - Sent Mail Page
The 300x250 banner is displayed on the screen following mail being sent from one member to another: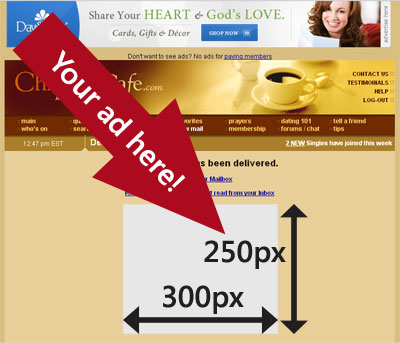 → 728x90 Banner - Top of Page
The 728x90 banner is displayed at the very top of the page: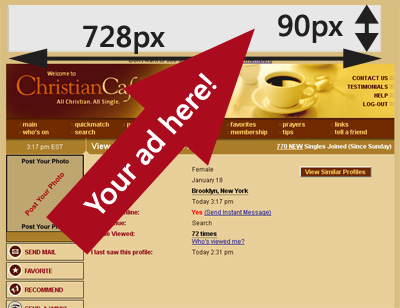 Acceptable Ads
Only Christian and/or 'family-friendly' ads will be accepted.
Pricing and Purchase
Please contact to purchase ads at the following prices:
468x60 banner placement @ $3 CPM
300x250 banner placement @ $3 CPM
728x90 banner placement @ $2 CPM
Minimum purchase amount is $150. Please include your banner creative for review.

Demographics

ChristianCafe.com members primarily reside in the United States (approximately 75 percent of our membership), followed by Canada, the United Kingdom and Australia. Our members are single and Christian, although from a variety of Christian denominations. Most members own credit cards and make purchases online.

Getting Started

See Pricing and Purchase section above to get started.