One of our more recent Christian singles testimonials comes from Monica and Rick, both from the province of Ontario. Monica and Rick are now married after meeting on ChristianCafe.com!
Ontario Christian Singles:
Monica writes, "Instantly, in our email and instant messaging correspondence, we "clicked", our conversation flowed so effortlessly! We met in person at my church service two weeks later and it has been no turning back since."
Rick calls ChristianCafe.com "an awesome venue that provides single Christians an opportunity to meet in a safe and fun environment", adding, "I tell everyone who will listen that while it's difficult to wait, hold out for God's best. If He has given you that desire he will fulfill it and it will be better than you could ever imagine!"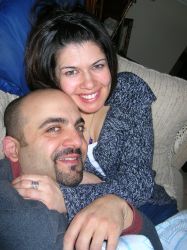 Congrats, from everyone here at the Cafe! Stories like this, bringing Christian singles together – especially those in our own back yard of
Ontario
! – makes our work that much more gratifying.
Join Christian Singles For Free